The Grapes of Wrath by John Steinbeck
Had the chance to re-read this classic not long after the quarantine started about a month ago. Steinbeck paints an achingly haunting picture of the Great Depression — Of families moving across the country in search for jobs, kids sleeping on starving stomachs, people dying from diseases that they couldn't afford to treat. I couldn't help but think a lot more about the unfortunate people who lost their jobs due to the pandemic — I read about a family who didn't eat for three days when the quarantine started, because the father lost his small business. While most of us are blessed to at least stay comfortably at home, there are plenty of people out there who struggle to put even a morsel of food on their table. Let's truly count our blessings.
Blue Ocean Strategy by W. Chan Kim and Renée Mauborgne
Re-read this great book as well. It holds one of the most brilliant ideas in marketing — Instead of swimming in the red ocean of the marketplace where it's bloody with cut-throat competition, go for the blue ocean, where you're the only one doing what you're doing. You'll find in this book the concrete strategies on how to get there — From knowing your targeted audience, to finding and leveraging on factors that make your idea unique, as well as eliminating ones that aren't lucrative or relevant.
Robert Downey Jr. : The Fall and Rise of the Comeback Kid by Ben Falk
The story of Robert Downey Jr. is a wildly inspiring one — Acting in his first scene when he was five, smoking marijuana at age six, jeopardizing his career while he descended into deeper drug use, escaping from rehab, doing time in prison — And how all of that changed when he met his wife, Susan, who helped him get to a much better place than he ever has been, and ascend as one of the greatest actors of our time. That's how powerful love really is, when you support and push one another in being your very best selves. There's hardly another force as compelling as that.
Humans Are Underrated by Geoff Colvin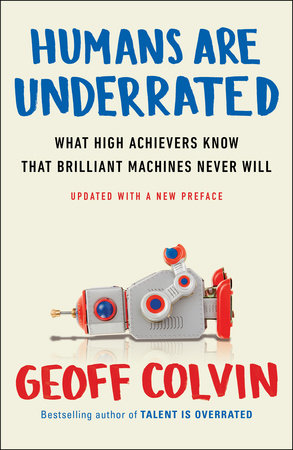 Hearing about how robots and machines could potentially take over our jobs is pretty disconcerting, isn't it? The good news is that machines could never replace one important skill we humans have, which is empathy. And well, the bad news is that we're slowly losing our empathy muscles, especially in an age that's getting more and more digital. This book's message is in tandem with the ideas that another author, Robert Greene advocates in his books — That we need to constantly sharpen our innate ability to empathize with others. To become truly valuable in the economy, it's not enough that we have technical skills. If we're bad at dealing with people, our technical skills won't get us anywhere far — As mastery, really, is a combination of those two things. To touch lives — That's the timeless value of craftsmanship and art. That's our human superpower that nothing can ever trump.
Summer in Algiers by Albert Camus
A central theme in Camus's writings is absurdism, the question of whether or not man can find meaning in a meaningless world. In this essay, we can see that Camus had a somewhat bittersweet relationship with his hometown, Algiers. On one hand, he was constantly awestruck by its beauty and its youth. And on the other, he couldn't help but be perplexed by the emptiness that existed in the people's culture — How they were rather content with their lack of belief, living in a land where there is "nothing on which to hang a mythology, a literature, an ethic or a religion, but stones, flesh, stars and those truths the hand can touch". It's understandable how Algiers always seemed to find its way into his some of his best-known works.
Also Check Out :
The Dark Side of the Moon by Pink Floyd 
Pink Floyd is one of the things keeping me sane during quarantine, honestly. Among other things, staying home all day has taught me to actually listen to music, as opposed to just hearing — To not only pay close attention to the lyrics or the melody, but to ponder on even the song structure and basically just about everything that make up the whole experience of the song and album. A song off The Dark Side of the Moon that I find myself listening to every day is Time, because I think it's a really great reminder that once the quarantine is done, I might either proudly look back at how I spent the long days at home, or regret the boredom-filled moments and the "plans that either come to naught or half a page of scribbled lines".
If you're interested in learning more about The Dark Side of the Moon, check out my two-part article on Pink Floyd — Madness in the Modern World, and Absence in the Modern World.
Somewhat inspired by the album, I also created Moonlight — My latest project that focuses on self-care. Having battled depression myself, some of the worst things about it are feeling like you're alone in what you're going through, or that it will never get better. That's why in Moonlight, my team and I share daily insights on how you can grow through life, one day at a time. It's more of an experiment, though. We're presenting it on Facebook for an assignment, and I guess time will tell where it might go. But I hope you'll find some value in it anyhow.
God of War (2018)
I just completed my second run of the story, after a year since I first played it. Since I'd gained a better understanding of Norse mythology, which the franchise is newly based on, I was able to appreciate the story a lot more. Everything is so carefully thought out, and it's truly a masterclass in storytelling. Another thing I love is how much Kratos has developed as a character. Being a huge fan since the first God of War game, it's refreshing to see a character who was once so consumed in vengeance become much wiser and content, as he learned to use his pain and anger for better ends. There's also the heartwarming theme of fatherhood as well, as he does what he can to teach his son to be a good person — Wanting for him a much better life than he ever had.
---
Anyway, with all the worries about the current pandemic swirling around, I hope you're doing alright, wherever you are. Things do get better, especially when it doesn't feel like it. Keep praying, and stay safe. It's only a passing thing.
Happy Ramadhan wishes,
Izzat
---