What I'd Been Reading 
Letters to a Young Poet by Rainer Maria Rilke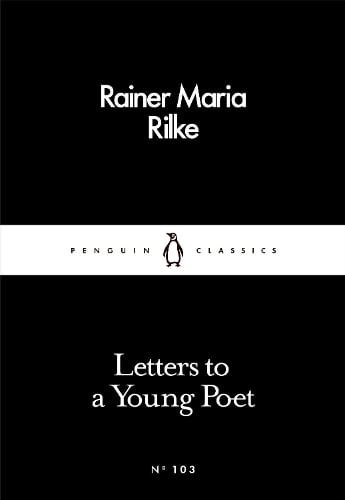 In this collection of letters, Rilke offers his advice on art and life. I think one of the best things I learned from this book is the importance of having that ability to be alone with yourself — And that means sitting with your own emotions, rather than turning away from them — Not trying to distract yourself with TV or anything, but really understanding and processing whatever you're feeling inside — Otherwise you would always act it out unconsciously, in one unhealthy way or another. Because matters of the heart take time and process, and that's true whether in life or in making art, right? "Have patience with everything that remains unsolved in your heart," writes Rilke in one of his letters. "Live in the question."
Nature and Selected Essays by Ralph Waldo Emerson 
Emerson is one of those immensely quotable authors that you need to read at least once in your life — On the same line with the likes of Seneca and Nietzsche. Nature and Self-Reliance are some of the very best essays I've ever read. They touch on immutable truths in human nature, such as our tendency to hurry and shut out our own inner voice in favor of that of other people. I learned to look towards nature for inspiration and wisdom, as nature doesn't rush its work, and she's always there to remind us about how small we really are. I learned too about trusting my own thoughts, because I realized that I would sometimes dismiss them just because they're mine. Well, you might have been in a situation where you encountered someone else's work — A book or a song or whatever — And thought, "Hey, I thought of that too! But I didn't do anything with it."
Diary of a Young Girl by Anne Frank 
Anne Frank and her family spent at least two years in a narrow space in their home, hiding from the Nazis. Their crime was simply being Jewish. During the long minutes of the day, she would keep her morale up by writing in her diary. "Paper is more patient than people," she often told herself in those pages. In one of her entries, she ruminated on the nature of writing itself, saying, "I want to continue living after my death". Wouldn't you know it, her wish did come true. Even though she was eventually caught by the Nazis and did not survive, her diary is still being read today, reminding us that even in the worst circumstances, we can still choose to keep our inner strength, to hold on to hope and humor, to uplift others with our experience.
Fahrenheit 451 by Ray Bradbury 
Fahrenheit 451, the temperature at which paper burns. This is a story about a dystopian future where books are banned, and if they're found, they would be doused with kerosene and burned to ashes — Because any form of rational or independent thought is considered threatening — Because books have the power to free human beings from the shackles of mindless submission and conformity. The thing about dystopian stories like this is that it could seem far-fetched at times, but chances are, it gives a very real warning to society about seemingly innocuous issues that are going on now, that could fester a lot worse in the future if we don't do something about it while we still can. Mind you, this was written more than 60 years ago, and it portrays a society that has low attention spans, and is hardwired to want immediate gratification —  At any hint of boredom, they could just "plug in" and forget about the world. Today, isn't that worrying when even little kids couldn't be separated from tablets and mobile phones? Who knows how the future might further unfold. Maybe, as Ray Bradbury has said before, it will not come to us burning books, because people no longer even want to read them.
The Years of Lyndon Johnson : The Path to Power by Robert A. Caro
You don't simply read Robert Caro's writing. You savor them like an extremely long poem, letting each word rub against one another, visualizing the vivid characters and places, feeling the vibes as if you were there in the story, letting these scenes play and replay in your mind after you put the book down. As far I've been reading, there's no other biographer like Caro. He doesn't write biographies to simply tell us what went on in a figure's life. No, he writes them to reveal to us the inner machinations of political power — How to get it, and how it can destroy, as well as mend the life of its wielder and of society. His subject, in this case, Lyndon Johnson, is a vessel for that motive. Yet, he doesn't merely narrate his life from A to Z or present him as a one-dimensional character. He goes great lengths in imparting an understanding of the times, the people, and the events that shaped Johnson's personality — From the grueling poverty he grew up in, to the rocky relationship that he had with his caregivers. Lyndon Johnson stands and walks from these pages, and you just have to read it to believe it. 
What I've Been Listening To 
The Cars 
Shout-out to my good friend Eilham (or by his Youtube username, Kimosabi) for introducing me to Moving in Stereo a while back. And man, that's only one of many great songs from The Cars' discography. 
I'm a huge fan of listening to the same song over and over again, because it somehow focuses my mind and helps me get so much work done. I've been listening to Just What I Needed almost every day for the past 5 months — Scavenging every version of it that I could possibly find : Live recordings, demos. It's too good, and I can't get enough of it.
Also, anyone who knows me would know that I have habit of getting to the very bottom of whatever I love. With music, I really like to listen carefully and find out as much as I can about what makes that particular artist great. 
With The Cars, I believe their greatness is in their innovative ability to fuse contemporary sounds with that of the past. The Cars are quite an oddity — Partly classic-rock, partly new-wave. They took advantage of new technologies in music during their time, such as synthesizers and Syndrums, and incorporated them with their rock roots. They have two lead singers who worked as the ultimate yin-yang pair : Ben Orr's sweet, buttery vocals in effective contrast with Ric Ocasek's coarser singing. Not to mention, their mind-blowing individual talents all played important roles in creating their unique sound — From Orr's sleek bass lines and Ocasek's sparse songwriting, to Elliot Easton's wide guitar repertoire, David Robinson's energetic drum-playing, and of course, Greg Hawkes's magic with keyboards and special effects. Wouldn't hurt to mention how cool they were, too. 
What I've Been Playing 
Assassin's Creed IV : Black Flag
I loved Assassin's Creed in high school. All of the games are based on historical events and figures — And of course, for a history nerd like me, these were worlds that I enjoyed being lost in. The developers, however, are notorious for doing just enough to make the games good, even very good, but not great — Largely due to the fact that they release new games every year, and they don't have the time to fix their bugs and perfect their features. 
I played every main title and stopped at Assassin's Creed III, because its rushed and unpolished quality made me lose interest in the series. Recently, to reignite my interest, I played Assassin's Creed Origins, their second latest installment — Even got my platinum trophy in it — But I still wasn't very impressed. Origins represented their current direction and attempt to massively reinvent the series, but in that process, I felt like they had steered too far from being themselves, from the things that people did love about Assassin's Creed — They ignored a lot of those factors and became more of a copycat of The Witcher 3. 
It made me want to give the older Assassin's Creed games a chance. I picked up where I left off and played Assassin's Creed IV : Black Flag. I've only been playing for a little more than a week, but I'm already absolutely in love with it. It's hard to get myself to stop playing. 
Just like in Red Dead Redemption II, I find tremendous comfort in simply exploring the world and being alone with myself. I thoroughly enjoy sailing the Caribbean seas, listening to my ship crew sing their shanties, and climbing rooftops in cities like Havana and Kingston. As for the story, I could tell that I'm onto something that's close to heart. Set in the Golden Age of Piracy, we play as Edward Kenway, a pirate-turned-Assassin, with a burgeoning ambition for gold and glory. With Edward, I might just realize too that there could be a cause much larger and meaningful than my endless rat-race of wanting more than I already have.